Kevin Bailey, President of Design 1st discusses 4 trends that he believes will cut down on end user frustration.
Trend No. 1 - Mobile ease of use:
There is a world coming where the frustration of charging batteries and intermittent radio connection as you move about your day simply will not exist.
No one cares about radios, connections, charging and the other technology limited maintenance necessities of our world today.
The tools we use to get things done will simply maintain themselves, increasing our effectiveness on activities we take on and reducing the frustration and peripheral learning that is currently required.
Trend No. 2 - Common Modules and Standards:
I believe in the next couple of years the adoption of a variety of Bluetooth, Wi-Fi, loRa, open standards and modules will solve much of the connectivity frustration.
A settling out period will occur across a half dozen competing standards groups. Design of the electronics technology of a device will get more modular and ubiquitous, which means faster to select and easier to design into a product.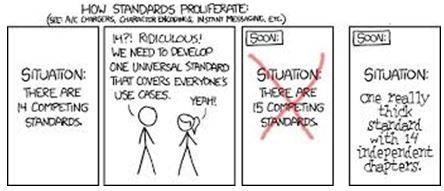 Trend No. 3 - Useful data and Analytics:
The collection and presentation of context relevant data will drive ease of use as we simple don't have time or the patience to use the products that come with confusion, learning and complexity.
The quantity of data collected and available will grow exponentially in 5 years requiring data analytic butlers and filters to act on our behalf.
Early stage helpful interfaces are appearing today with voice activation cloud commands enabling a host of audio command based user definable actions from 'play music' to 'turn on my lights' and 'buy eggs' connecting our commands to actions on the objects around us.
Ease of use design will require simulation and testing tools that combine the new interfaces, device hardware and software with cloud and applications and user environment labs to create concepts that run users through scenarios to debug and validate new products features.
Trend No. 4 - Collaboration:
Going faster means collaboration with knowledge leaders for a short period during product development. The expertise is out there and smart companies are tapping into it. The global players have embraced this with programs like NineSigma to mine for new ideas and talent.
If you are going through connected hardware design for the first time you will need specific expertise, tools and a process architect that will guide the fast development. A single product requires a host of design, engineering and software expertise combined with fast turn services like 3D prototyping and manufacturer input.
The 'try and learn' development approach is an unavoidable predicament of underfunded projects. The future winners will find a way around this obstacle and secure the team members to get product ease of use exactly right for their target market and do it in under 8 months.
IoT News, Resources and Client Stories